Hello my loves,
Today I have a tag for you, I thought this would be a good way to show you my favorite items for spring and for you to get to know me better. The tag consist out of 12 questions and in the end I will share my favorite 'I <3 spring' tags with you.
I have three favorite spring colors for my nails. The first one is Essie's 'Binkini So Teeny' (219A). This polish is a very beautiful lilac-blue color with light blue shimmers.My second favorite is by NYC and is called Mint Macaroon (253). Just a beautiful creamy mint. The last one I want to share is by Hema, a Dutch brand that's releasing amazing products lately. My favorite is a polish from last year and it's number 85, a pastel purple.
What is your must-have lip color this spring?
In spring I love to wear super bright colors on my lips. Catrice' C01 'Colour Bomb' is without doubt my favorite. It's matt and it's bright pink: perfection. This was a limited edition last year (revoltaire collection). The brightness doesn't show well on the picture.
better picture
Show us your favorite spring dress!
I love floral dresses for spring but since it isn't really warm during the Dutch spring I can't wear it as often as I wish. This peach dress with navy, hotpink, and a little bit of mint is just perfect for me and even the rain won't stop me from
wearing
it. The dress is by only.
I love lilies and especially pink ones in
combination
with white. Problem is, I can't buy them because my mother is allergic for them. I still love how they look and I always get a bouquet for my birthday with lilies. Them my mother just doesn't come into my room for a while. :)
Favorite spring scarf/accessory?
I love wearing flowers for spring and at the moment I love wearing flower rings and earrings. I have a dew but these are my favorites. Both by '
Accessoires
'. I love the vintage look they have and the color of the earrings is just perfection.
What spring trend(s) are you most excited about this year? (Makeup, fashion or both!)
I love the floral trend and the lace trend. I love floral dresses and I really like tops with lace sleeves or a lace back, I love the feminine look it give me. For makeup I really like bright lips and blue
eyeliner
.
I have two favorite
perfumes.
DNKY 'Be Delicious' and The Master Perfumer 'Orange Blossom'. Dkny (or as my mom calls it donky) is just the perfect everyday scent and TMP is still fresh but a little bit heavier due to the musk in it, perfect for the evening.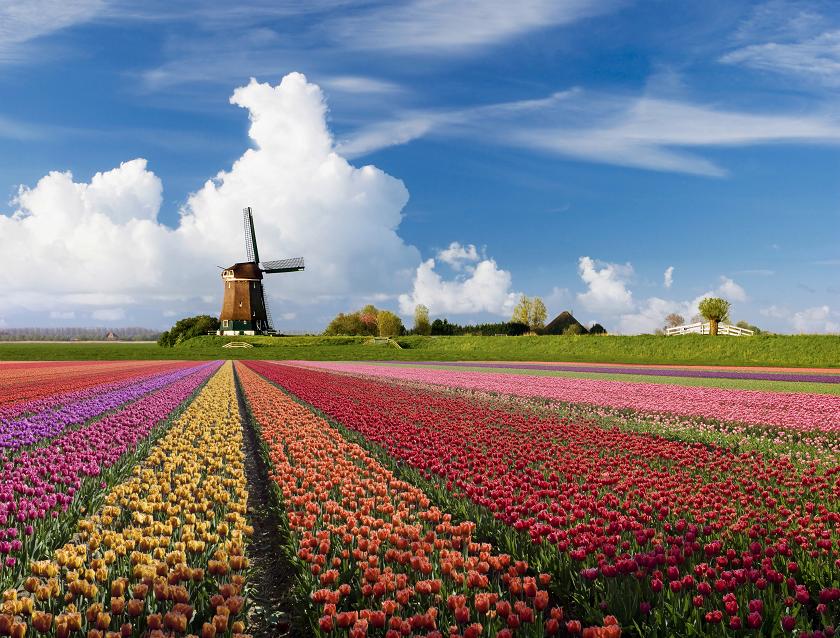 What is spring like where you live?

This is one of the
typical
things people associate with the
Netherlands: flat with mills and tulips. It certainly it's flat here and we certainly do have a lot of mills. Tulips you don't see much in the area I live in but I do love them. Spring in the Netherlands is difficult to describe. The current weather is warm with a light breeze and it's around the 20 degrees. But then the weather can change in no time into rain and 10 degrees. I love it when the weather is nice but I hate it when it rains.
What's your favorite thing about spring?
My favorite things about spring are without doubt the fresh flowers. I have a giant Japanese Cherry (on the
picture
above) in front of my window and it looks so pretty. It's the first thing I see when I wake up and I makes my day. The annoying thing is that I have hayfever and I am
constantly
sniffing and sneezing.
Are you a spring cleaner?

A little, I love to reorganize my
makeup
clothing, books and CD's. I like to clean my room until I come to the point that I have to vacuum. I hate
vacuuming
and my cats hate it to, were a match made in heaven. I'm certainly not a cleanfreak but I also don't hate to do it.
Any plans for spring break or an upcoming vacation?
Nope, the first vacation I will be going on is in the summer. Then I'll go on a two week trip to southern France. I've been going there for a couple years and I know some of the local people there. I'm really looking forward to it. Finally a vacation without homework and
without
having to think about school.
Favorite I <3 Spring Tags
Click on the links to go to their YouTube channels.
That was it for today, I hope you liked it.